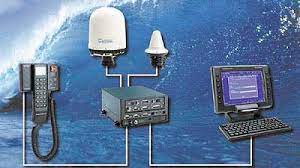 Inm C:

Star Link provides inexpensive satellite terminals for Store and forward messages upto 32Kilobyts of data.
Inmarsat C or Mini C provide two-way messaging, data reporting,
distress calling and polling as well as Enhanced Group Call such as FleetNET, SafetyNET services.
We also provide activation / deactivation of GMDSS stations apart from tracking service through LRIT
AAIC:
In accordance with ITU (International Telecommunication Union) radio regulations,
every maritime mobile radio station must have an internationally recognized accounting authority
that acts as a billing intermediary between the ship's station and service providers.
All maritime communications traffic must be prefixed with the officially recognized accounting authority identification
code, or AAIC, of the accounting authority responsible for the settlement of the ship's radio accounts.
Star Link along with world partners provide accounting authority for variety of flags
SSAS:
Star Link Provides Ship Security Alert System for ships in accordance Solas regulation.
Protect your fleet at all times by managing security alerts and responding to security incidents from wherever you are, on the go.
Your fleet's safety is of paramount importance to us.